Over on Twitter, the white hot, Solana powered crypto game Aurory released a 1 minute video of gameplay footage from the upcoming RPG game. If you are a game developer new to crypto gaming and don't know about Aurory, your head might simply explode on learning that this game is already a 9 figure USD business success.
It is very nice gameplay footage, no doubt. It has an appealing, cel shaded style, an isometric camera, good character design and clearly shows that Aurory has playable game software. This is in contrast to footage from other projects that may lead you to question if there's actually a game under all those transactions. If a colleague shared this video with you on Slack, you'd probably respond "oh, that's a neat looking indie game. I'll probably read a review when it releases as a $10 Switch game."
So, when I share some of the financial success of Aurory, I expect some of you to simply give up on traditional game development in an instant. Here are some project highlights:
On August 31st, the game sold out 10,000 PFP (profile pics) in under 3 seconds, raising 10,000k SOL. This is valued at ~$1.4m marked to todays price. Due to an unfortunate bug, the minting cost was only 1 $SOL and not the 5 $SOL that was intended. I'm confident that had the price been correct, they would have raised about $7m USD in that same 3 seconds
On October 24th, Aurory raised over $108m USD in its IDO (initial dex offering) for their $AURY token.
Aurory is ending the year with over $100m in trading volume on the PFP collection and a $130m USD market cap for $AURY.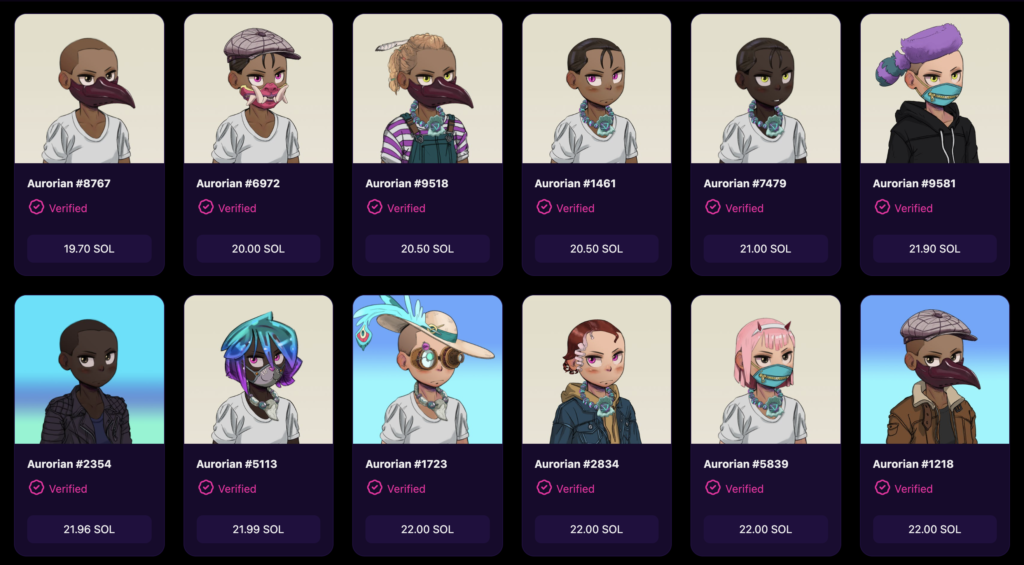 Aurory is currently the #2 project on the Fractal NFT marketplace.
So… think about that mind boggling business success and contrast that to the one minute trailer you saw. Aurory has 10s of millions of dollars to put to use in developing their game. They have an incredible early mover advantage in the crypto gaming space, a fervent Discord & Telegram community and a lot of mindshare as a leading crypto game.
One of my hypothesis is that many crypto game projects resemble Kickstarter on steroids. And Aurory is no different. When it comes to crypto game development, veteran developers need to think about these projects with a whole new frame of mind.
Don't get heads down for months (or years) developing prototypes and soft launch candidates. Open up early and ofter. Tease, tease, tease. Connect and co-develop with your players.
Community and momentum, these are the keys to crypto project success. It has worked like gangbusters for Aurory. And hopefully it will work for some of you too.