Diablo Immortal has earned $284 million in mobile revenue in the 6 months since launching worldwide, according to data.ai estimates.
With 75% organic downloads, growing revenue per download, and additional significant revenue from the PC release of the game, Diablo Immortal is clearly a monster hit for Blizzard and NetEase.
Why It Matters
Diablo is one of the most revered worldwide gaming brands, and fans famously negative reaction to the Diablo III auction house would give any developer pause when considering a full free-to-play release. Yet Blizzard persisted, teaming up with Chinese F2P juggernaut NetEase to co-develop the game. With a largely negative response following its 2018 BlizzCon release, success was far from guaranteed.
On launch, we questioned the spend depth of the monetization systems implemented in the game on This Week in Games. However, our concerns were quickly proven wrong as Activision's Q2 earnings celebrated over $100m in player spending for the game in its first two months of worldwide release.
Healthy Signals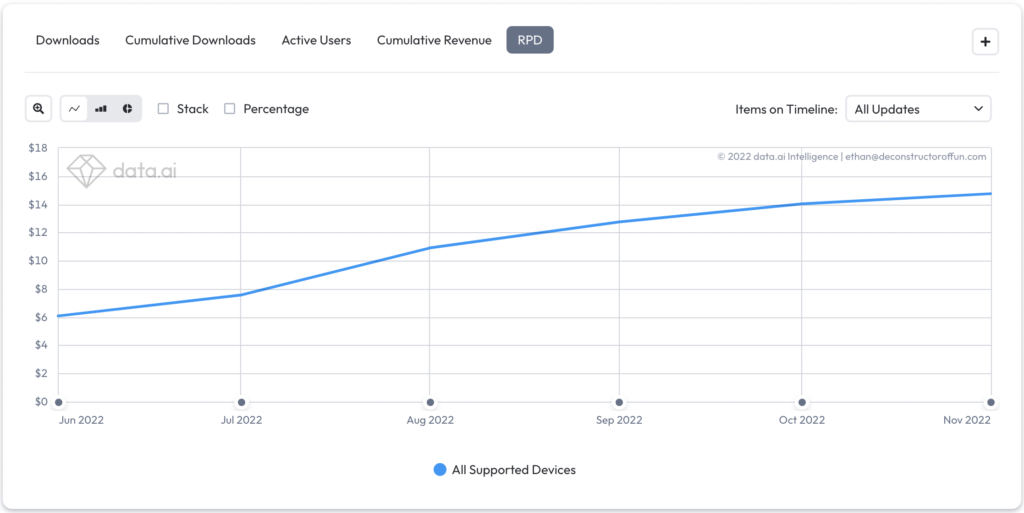 In addition to the topline revenue estimate for mobile, digging into the data.ai estimates we see encouraging signs of health for Diablo Immortal. Most notably, the estimated revenue per download has already double from a healthy $6.09 in June to a $14.75 by November. These numbers are signal that Diablo Immortal's older cohorts continue to retain and spend while the game adds new, monetizing users to the player base.
With metrics like this, Immortal could no doubt continue to scale profitably through user acquisition. But thanks to the strength of the Diablo brand, this isn't necessary. Data.ai estimates that roughly 75% of all downloads are organic. With a world-famous brand and exceptional user review scores, Diablo Immortal is clearly crushing it for Blizzard and NetEase.
And these estimates from data.ai only include only the mobile game. Players are also able to play and spend on PC. As a historically PC franchise, and with over a decade since the initial release of Diablo III, the game is no doubt seeing significant user and revenue numbers on desktop.
The Warcraft Conundrum
Given the massive success of the Blizzard/NetEase collaboration on Diablo, the souring relationship between Blizzard and NetEase is all the more mysterious. In August, we learned that the two companies scrapped a long in development World of Warcraft mobile game. Most recently, World of Warcraft went offline in China after the termination of a 14 year collaboration between the two companies. Given the massive and ongoing success of Diablo Immortal, one has to wonder what transpired to destroy such a profitable collaboration between the two companies.
Ethan Levy is a 20 year veteran game designer, producer and monetization expert, having worked on over 80+ shipped games across every platform and business model. He is Deconstructor of Fun's resident Crypto Kid, and is on the hunt for a Technical Director to help him build the next, great Web3 games studio. If this sounds like the right next adventure for you, reach out on LinkedIn.